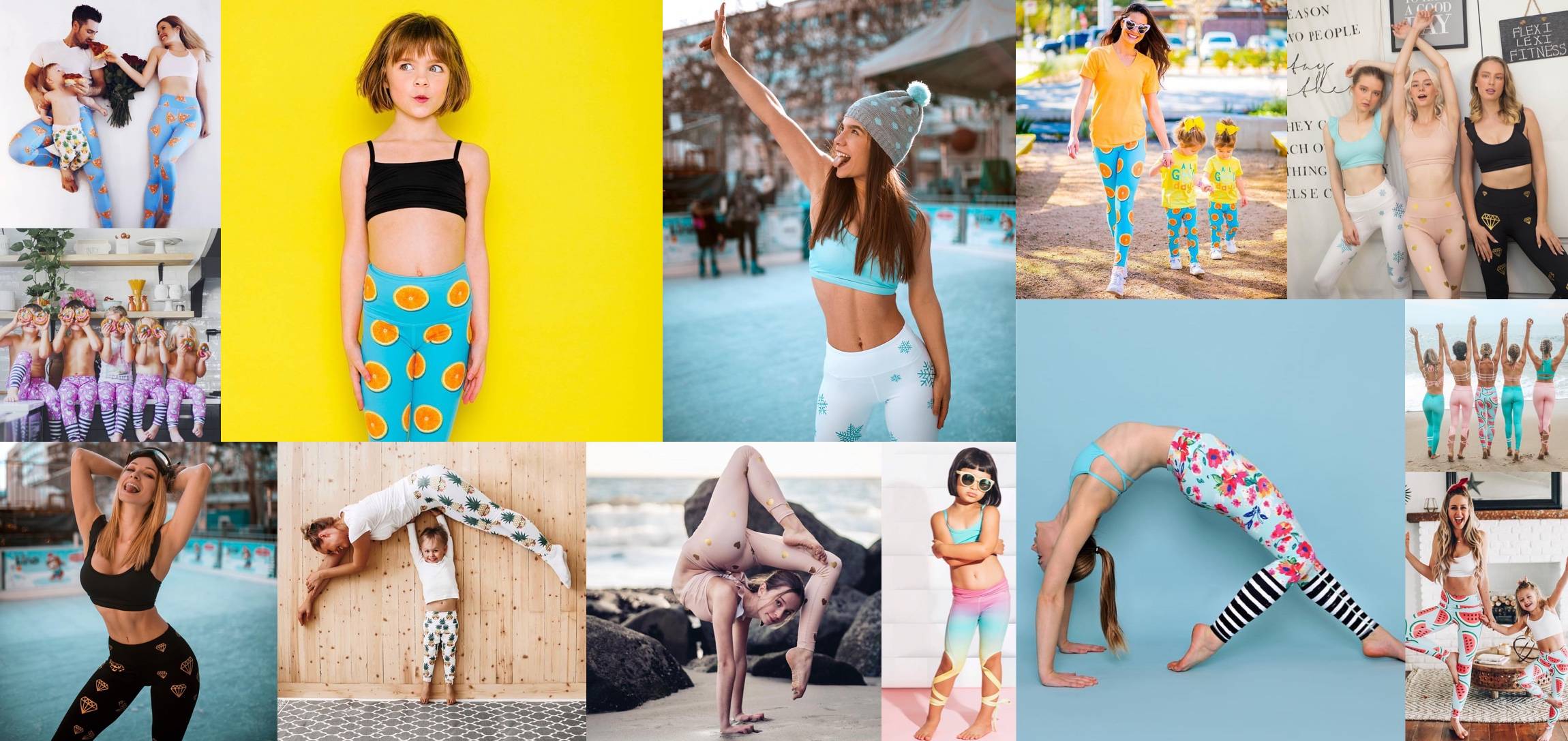 ---
Comfort, fun designs, flexibility and functionality
​ Black gym wear is great, we get it, but at Flexi Lexi we want to empower women and kids to express themselves. Whether at the gym, beach or in the yoga, dance, barre or pilates studio we aim to inspire and support you. We bring the best quality activewear, focusing on comfort, designs, flexibility, functionality and of course...fun. We really mean it when we say we only use the best quality fabrics, it is so important to us, for functionality, stretch, endurance and my favourite - to flatter. Our tights will pass the squat test - every time!
---
Who we are
Flexi Lexi Australia was born after being frustrated with ill-fitting, unflattering and well..let's face it...boring designs in the gym and activewear market. It got us thinking, what if we could combine the best materials with fun designs to provide comfort, functionality and inspiration for women, no matter how they exercise or enjoy life? After lots of research, product trials...and some fun...we found Flexi Lexi Fitness and Flexi Lexi Australia was born.
Our Journey
So...we can't take all the credit. We joined forces with the already established Flexi Lexi Fitness as a Flexi Lexi authorised re-seller, because we shared the same passion for quality and creativity for activewear.
So, to give you the full story...here is how Flexi Lexi Fitness all started..
Flexi Lexi Fitness was founded in 2014 in Thailand when Micky was pregnant with her first son. Out of frustration that there were no sports bras in the market that were comfortable, fitting and with fun designs, she contacted a supplier and created a "bralette" and called it Lexi bralette. Lexi bralettes soon became a sensational hit among yogis worldwide.

Not long after that, Flexi Pants were made. Because Micky loved (and still does!) bright and happy colours and fun and cute designs, she put those ideas into making the first collection of Flexi Pants. Those too became a hit. At that time there were no proper premium yoga or activewear that had fun designs like Flexi Lexi Fitness.

Then came Flexi Dancer Leggings, the ballet-inspired leggings, and then Flexi Lexi Fitness' most favourite Mini Flexi Lexi Collection. Now everyone in the family (yes even the dads!) can wear Flexi Lexi Fitness and get fit and strong together.

Our fabric is one of the best in the activewear market with 27% spandex and 73% polyester. We use the best sublimation technique and our designs are copyrighted. Our products can be washed hundreds of times and they will still look like they are fresh out of the bag. Our working staff at our factory in Dongguan, receive above standard wages, bonuses and annual holidays.
At Flexi Lexi Fitness, we also care about our world and seek the best possible way to help make it a greener and cleaner place. Plastic-recycled fabric made from post-consumer plastic bottles will be used in all our collections starting from Summer Collection 2020 onwards.
But we wont stop there, we are continually working on new initiatives to further our eco-friendly options. All of our packaging at Flexi Lexi Australia, including our mailers are 100% recyclable or compostable - yep and they're super cute! Even our stickers are made from 100% recycled material, how cool is that? We will continue to look and work on further ways to improve our eco footprint.
Stay fit and happy shopping!
Want to know more? Have an idea for how we can continue our eco-journey? Get in touch, we would love to hear from you!
Flexi Lexi Crew
info@flexilexi.com.au
---